One of the most important things that you will decide on when creating your new logo is what colors to use. Colors are a very important part of your branding process as they can help give consumers physiological information about your company.
Consider how you want to present yourself. Is your group bold and full of life? Are you calm and trustworthy? You must decide what kind of message you want to send with your logo's colors. It is typical to choose one primary color to use and sometimes an additional secondary color.
All colors have different meanings that viewers subconsciously pick up on. While it is not an exact science, the general meanings of each color are commonly agreed on.
There are three different categories that all colors can be broken down into which are neutral, warm, and cool. They all fit into their category because viewers get that sense of feeling from them.
Deciding on your color scheme is a great step towards having a completed logo that will fit your company branding. Take a look at these colors to help decide what meaning you want to invoke in your viewers.
Neutrals
Black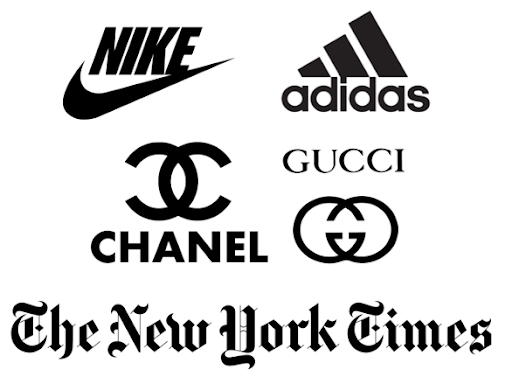 While all colors are powerful, black holds a special appeal. Being the darkest color, it holds a certain strength and mystery that the other colors aren't able to uphold. 
It is a powerful color that doesn't leave room for discussion. Its major downside is it can also be associated with depressing or darker elements. 
Black is versatile as a color, but it is often used for clothing or fashion company logos. All companies will have a version of their logo in black and white, but it is much less common to just have an originally black logo.
Elements related to Black:
Power

Mystery

Sophistication

Evil

Strength

Depressing

Authority

Elegance
White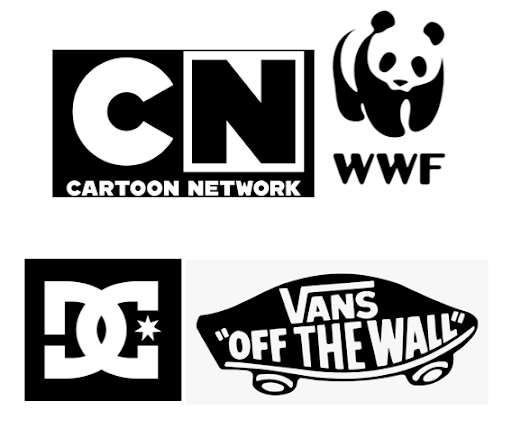 In North American cultures, white holds a lot of weight in the area of innocence. It is considered clean and not stained. It is the color without any color at all.
The drawback of white is that it can be associated with being empty, bland, or boring. The lack of color within the white makes it seem very blank.
White is an ideal color because it is the best background color for reading text. Websites and printed texts have white backgrounds because of this reason.
While it is often incorporated into many logos, white is most likely to be found as a secondary color rather than a primary. All white logos have to have some other additional color in order to be successful. 
Elements related to White
Innocence

Cold

Clean

Bland

Elegance

Purity

Calming

Simplicity
Gray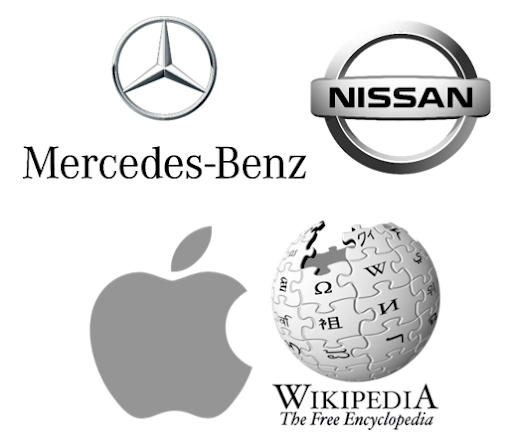 The most neutral color is gray, the color between white and black. Because of this, it provides a sense of balance and soothing amongst all the noise created by other colors. 
The main downside to gray is that it can be seen as depressing since it doesn't have much color. However, the benefit is it works really well with a lot of different colors. 
Grays in logos are mostly used by car companies that utilize more of the silver look for their brands. 
Elements related to Gray
Balance

Unemotional

Neutral

Calms

Reliable

Pessimistic

Relaxing

Soothing
Brown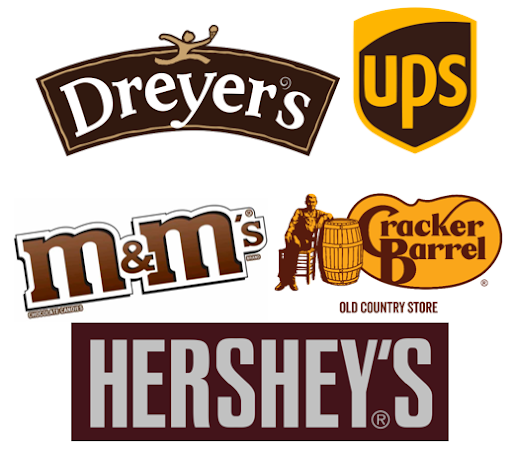 Brown is the color of the dirt of the Earth. This gives it positive qualities such as predictability and grounding. It is comforting because it is very common to us as we see it every day. 
Because we see it often though, brown can have drawbacks of seeming too dull or boring. Pairing it with a great secondary color can help with this problem. 
A lot of food, especially chocolate, companies use the color brown. This color association gives a direct link to their product, making it easier for consumers to understand the connection. 
Elements related to Brown
Grounding

Predictable

Earthy

Comfort

Dull

Honest

Natural

Boring
Warms
Red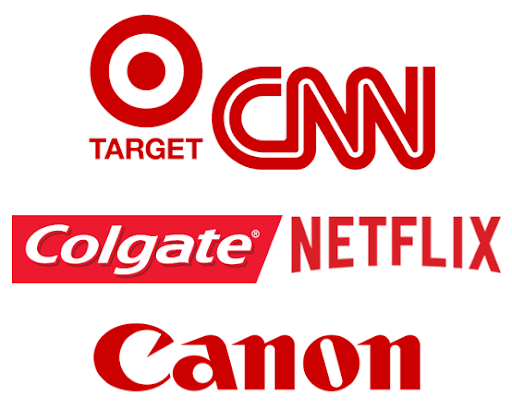 The color red is the most intense color in the color spectrum. Therefore, it can produce very strong feelings and gain the center spotlight immediately. 
The worst part about red is that it is also associated with the negatives of danger and anger. Despite this, most companies will choose this color due to its attention-grabbing ability.
The colors red and yellow have some effects on appetite, which is why these colors are frequently one or both of the primary colors for food establishments. 
Elements related to Red
Passion

Action

Anger

Danger

Confident

Revenge

Excitement
Orange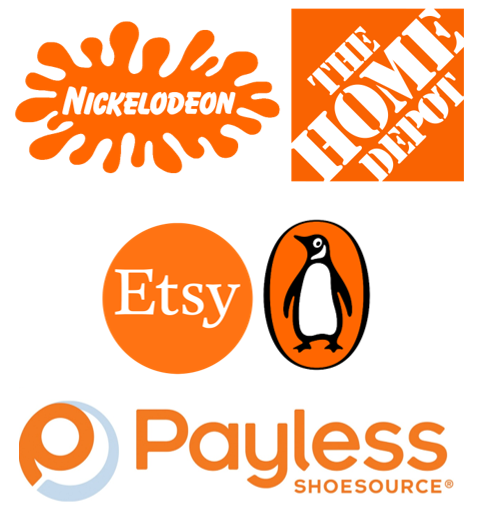 Orange is another intense color, it but is slightly dulled down compared to red. Nevertheless, it still provides a great amount of positive energy from creativity to optimism.
Its downside is that it could seem impatient or superficial. Thankfully, most people only focus on its positive features.
Many companies use orange as a way to call attention to themselves or their name. The orange hue, while still eyecatching, is much more friendly and fun than red.
Elements related to Orange
Enthusiasm

Impatient

Encouraging

Successful

Superficial

Optimism

Spontaneity
Yellow
.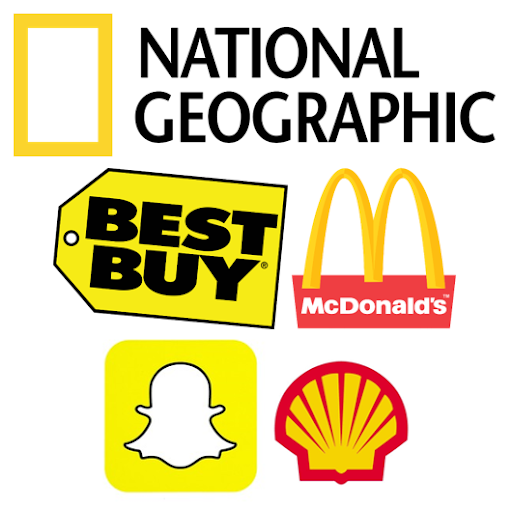 Yellow invokes feelings of the sunshine. All these positive things come from the sun: warmth, inspiration, and energy. 
This bright color does have some negative ties to feelings of cowardice and caution. In North America, yellow is used as a caution color for road construction signs and workers which does not help with these negative assumptions. 
Many companies choose yellow for its ability to call attention. As previously stated, yellow, combined with red, can also have an impact on appetite which makes it a useful color in in food industry.
Elements related to Yellow
Happiness

Warmth

Cowardice

Positivity

Warning/Caution

Energizes

Inspires

Intellect
Pink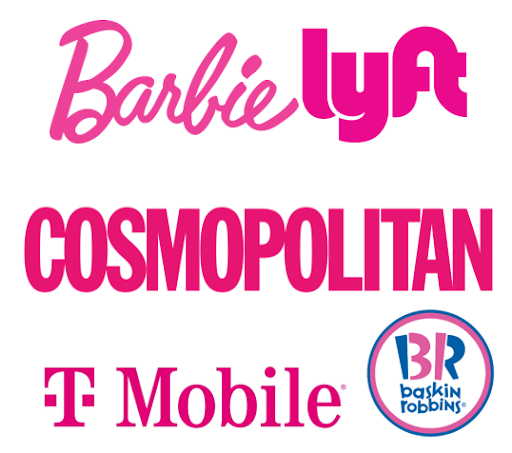 Pink is a color that is heavily used to target and cater to women and girls. It is a playful, loving color that is very soft and kind.
Its major downside is that the male audience might not take it seriously or be able to relate to it. They might consider it to be too immature or emotional for them.
A lot of female-based companies use pink as a primary or secondary color. Recently, there are many companies, whose audience is not gender-based, that are picking up the loving pink color.
Elements related to Pink
Femininity

Immature

Playfulness

Emotional

Kind

Timid

Nurturing
Cools
Blue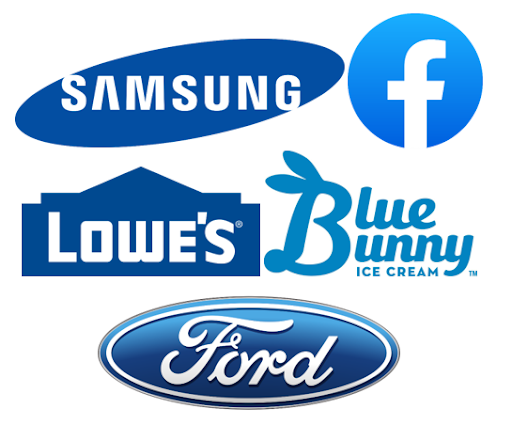 The color blue is tied with feelings that come from the sky and the sea. There is a calmness and reliableness about it that makes it an easy choice for logo colors. 
Unfortunately, blue can also be viewed as predictable, conservative, and depressing because of its sometimes darker nature. It doesn't always stand out as much as the brighter colors. 
All kinds of companies utilize blue in their logo. It is a very versatile color that makes a statement but not too strong of one.
Elements related to Blue
Calm

Conservative

Peace

Trust

Depressed

Reliable

Predictable
Green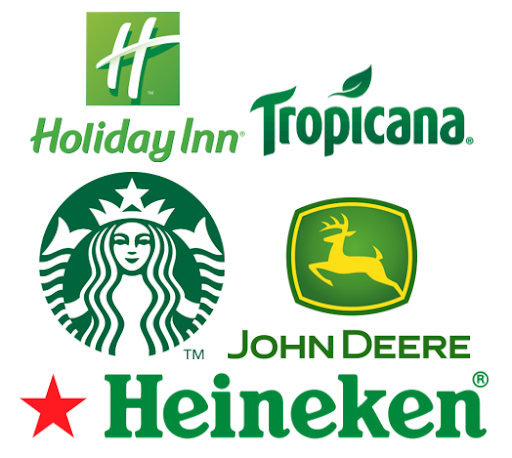 Green is a color that is closely tied to nature. It also has associations with money, health, and food. While it has many ties, all of them are strong and easy to use when deciding on implementing green into your logo.
Some negative associations green has are the elements of envy and materialism. Green's tie with money can lead consumers to associate it with having too many things.
Many different companies utilize green in their logos and they all use green's color meanings to their benefit. Green overall, makes you want to take care of yourself, which makes it a good decision.
Elements related to Green
Growth

Envy

Health

Hope

Materialism

Fertility

Judgemental

Prosperity
Purple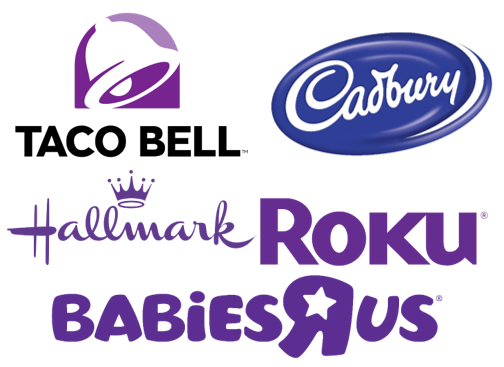 Throughout time, purple has been considered a royal color because of how hard it once was to procure. Now it is still viewed as more prestigious and noble, even though it is much easier to get.
Some downsides of purple are it could be seen as arrogant, emotional, or too sensitive. Having too much purple in a logo could be frustrating. 
Many different companies utilize purple in their logos. It provides a strong shade of color that is still peaceful and nice to look at.
Elements related to Purple
Royalty

Wisdom

Immature

Spiritual

Inspiring

Emotional

Sensitive

Uplifting
Create Your Own Color Logo
Now that you know the basic meanings behind these common logo colors, you can apply them to your own logo. Choose one to be your primary in order to get started.
Using our logo creator you can have your own logo in a very short time and for free. Simply follow the easy steps to create your own color-based logo with Logo Creator.
Barry Edwards is a digital marketing expert with a deep understanding of content strategy, logo, and branding principles. Holding a Bachelor's degree in Marketing from Beaconhill College, he offers valuable insights on digital marketing trends and strategies through his writing. Follow Barry's work to stay updated on the latest in online marketing and branding.