Logos are one of the most important pieces of your branding. They are responsible for setting the tone of your company and creating your consumer's first impression. 
There is a lot riding on your logo. But how do you get one? One way is to hire an artist but this path can be expensive and take a lot of time to receive anything. 
A great solution is to use an online logo maker. There are multitudes of these programs available online but they are not all the same.
These programs typically all provide a template to work from, icons to choose from, and the ability to edit your design by changing the color, typography, and elements within your design.
Online logo makers all differ in how easy they are to use, how creative they let you be, what customization options they have, and how expensive they are. Every logo maker will have its own strengths and weakness so not all of them will be the right fit for you.
Here are the statistics for the top ten logo makers, in no specific order.
| | | | | |
| --- | --- | --- | --- | --- |
|   | Use | Options | Edit | Price |
| LogoCreator | Easy | Lots of temples | High | Free |
| Graphic Springs | Easy | Lots of editing options | High | $20-$200 |
| Canva | Medium | Not many free options | High | Free or $13/mo |
| Tailor Brands | Medium | Asks for preferences | Medium | $10-$40/mo |
| Wix | Easy | Asks for preferences | High | Free Sample$20 or $50 |
| DesignHill | Medium | Lots of icons | Medium | $20, $150,  or $250 |
| Hatchful | Easy | Not many options | Low | Free |
| Logo Genie | Easy | Limited icons | Medium | $25-$185 |
| Ucraft | Hard | DIY | High | Free or $7 |
| Squarespace | Medium | Not many options | Low | Free |
Now that you've seen the overall statistics let's go into depth about each logo. 
LogoCreator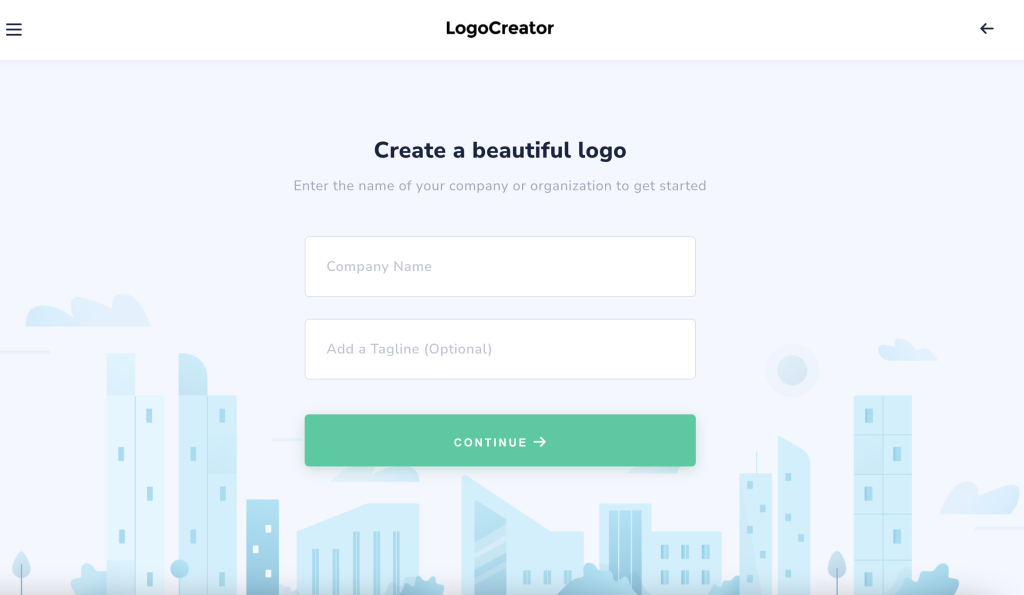 LogoCreator's program is designed solely around helping you get your logo. That is the entire purpose of our site. Because of this, we are able to put a lot more focus and attention into the tools and other resources we provide. Enter your company name, choose an industry and an icon, and then you can start creating.
Pros: LogoCreator is one of the few completely free logo creators available. There are no catches or secret fees.
Overall, the program is easy to use with an easy-to-understand editing platform. You have a decent amount of control and can add some elements to your design. The icon library is large and has a lot of great options.
Cons: With LogoCreator there are limits to what you can customize. There are also no screening preference questions to narrow your options before you start designing.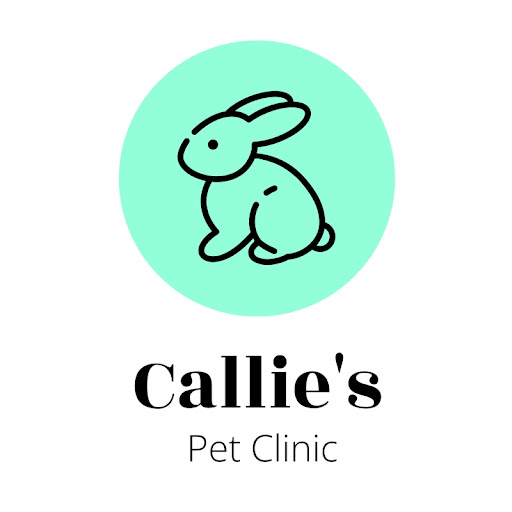 As you can see from my example, for this design, it was easy to add the circle element and change its color to this teal. I could also change the fonts to what I wanted. LogoCreator allowed me to choose this template for the placement of the design.
GraphicSprings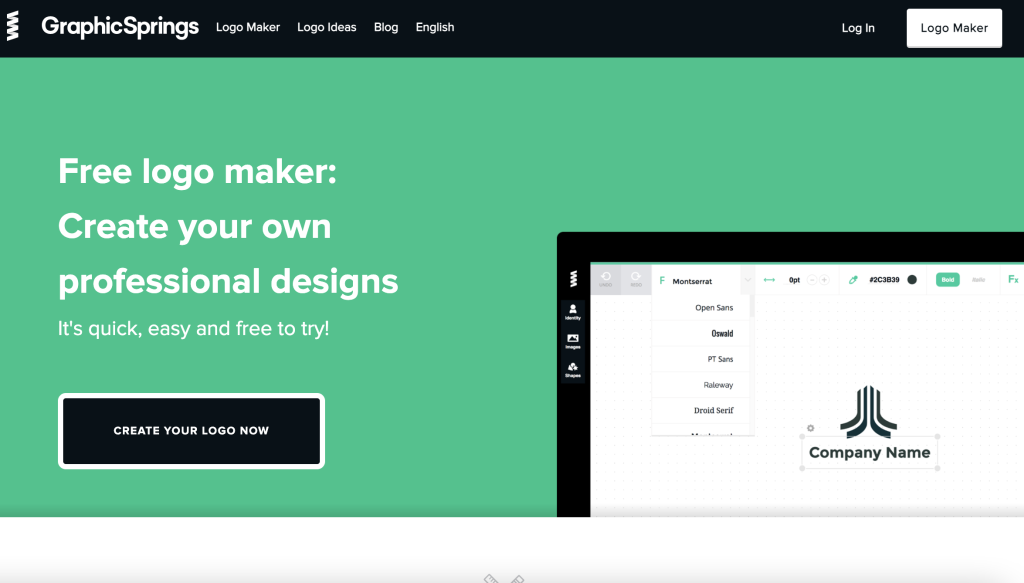 GraphicSprings is another logo maker that is easy to use. It is also designed specifically for creating logos. Because of this, they do offer other services such as hiring professional artists to work with you to create your logo. Their logo-making program is nice and focused on its task. All you need to do is input your company's name, choose an icon and then start designing.
Pros: There are a lot of editing options through this easy-to-use platform. There may not be quite as many icons to choose from as some have, but there are still quite a few. 
You have a lot of editing capabilities throughout every part of the logo. You can also add other elements to your design. .
Cons: GraphicSprings costs some money to download your logo. There are package options starting at $20 and going up to $200. 
There are no questions about your preferences prior to you editing your logo. This means that the icons aren't narrowed down before you look at them.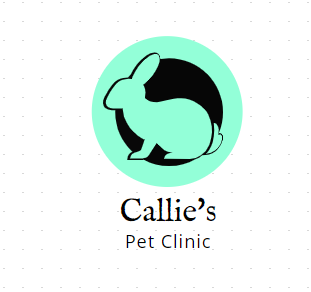 As you can see from my example, the logo was easy to create and easy to add a circle element to the design. The colors and fonts were editable and could be rearranged. There were very few rabbit icons to choose from.
Canva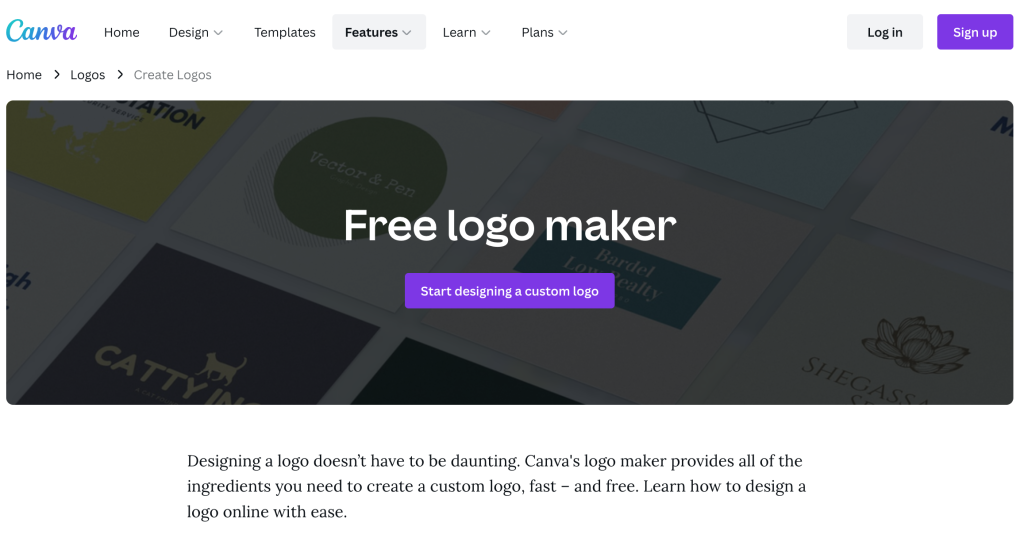 Canva is a program for all things design. They do not specialize in just making logos but have a wide range of marketing materials that can be created. 
This company is more based on the idea of choosing a design that you like, that was created by somebody for something specific, and then editing that to fit your own needs. While they do have free options, a pro membership is needed to use most of their designs. 
You must first choose what design you want before you start editing. After that, you can change the design however you see fit.
Pros: Canva offers a large range of designs. Once you choose one, you can edit it in nearly any way possible. 
Cons: It is difficult to look through the designs and find the best one for you. Some features, as well as most designs, are only available to members who hold a pro subscription. If you aren't using the free subscription, then you are paying $13 a month for pro features.
Because there are so many editing capabilities, it can be difficult for newer users to learn all of the tools because there are so many more than other logo creators. This just means that users might be slower to start as they get used to the program.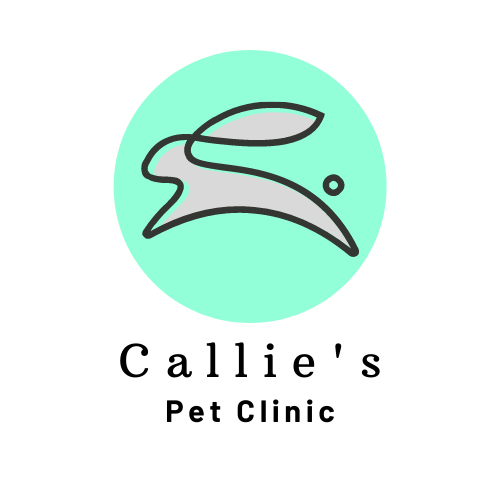 As you can see from my example, the free rabbit designs were limited, although there were many through their pro subscription. I had a very easy time adding the circle element and changing the colors and typography. The free template still provides a very nice logo.
Tailor Brands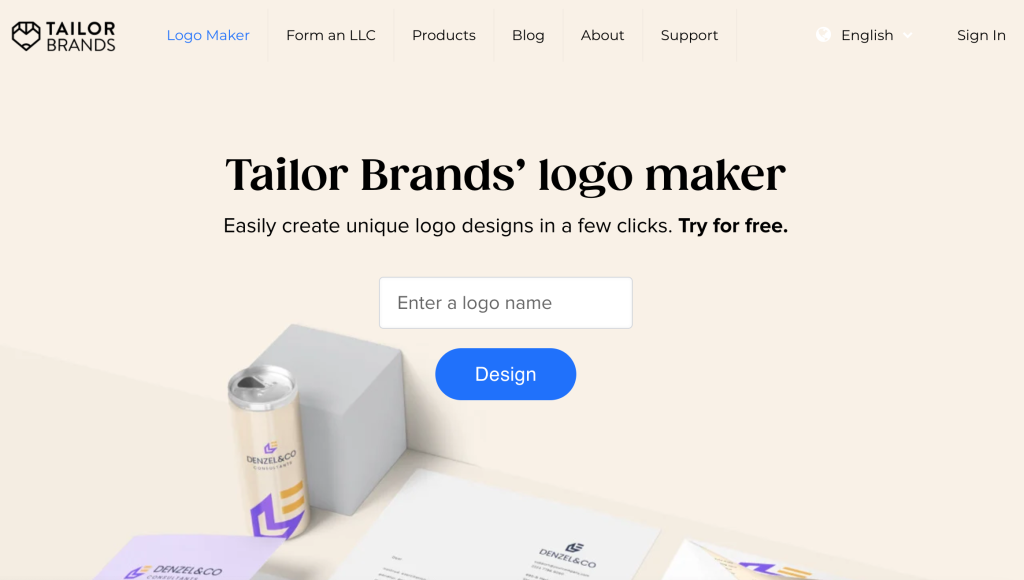 Tailor Brands is a company that is dedicated to helping you build your online branding. This includes websites, domains, company emails, business cards, apparel, merchandise, trademarks, and logos.
Because their company is focused on so many things, their logo maker is not the best in the world but it gets the job done and allows you to easily move your logo over to everything else for your brand in just a few simple steps. 
Pros: Tailor Brands has a decent amount of icons for you to choose from. This logo maker provides suggested color palettes and before starting it asks for the user's preferences of the logo.
There isn't much editing required on the user's side. The logo is ready to go almost immediately. 
Cons: In order to get your logo, you have to subscribe to the logo maker. Their subscription packages range from $10 to $40 a month. 
There is no way to add additional elements to your logo. You can only have your text and an icon in your design. 
The logo maker provides templates for placement but otherwise, doesn't let you customize.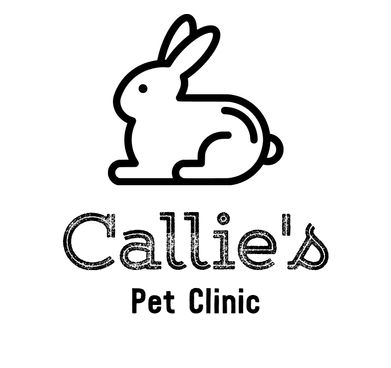 As you can see from my example, with Tailor Brands, I could not figure out how to add an element so that I could incorporate my teal circle. The logo maker gives me font options based upon adjectives that I choose as my preferences. The colors were easy to change through this program.
Wix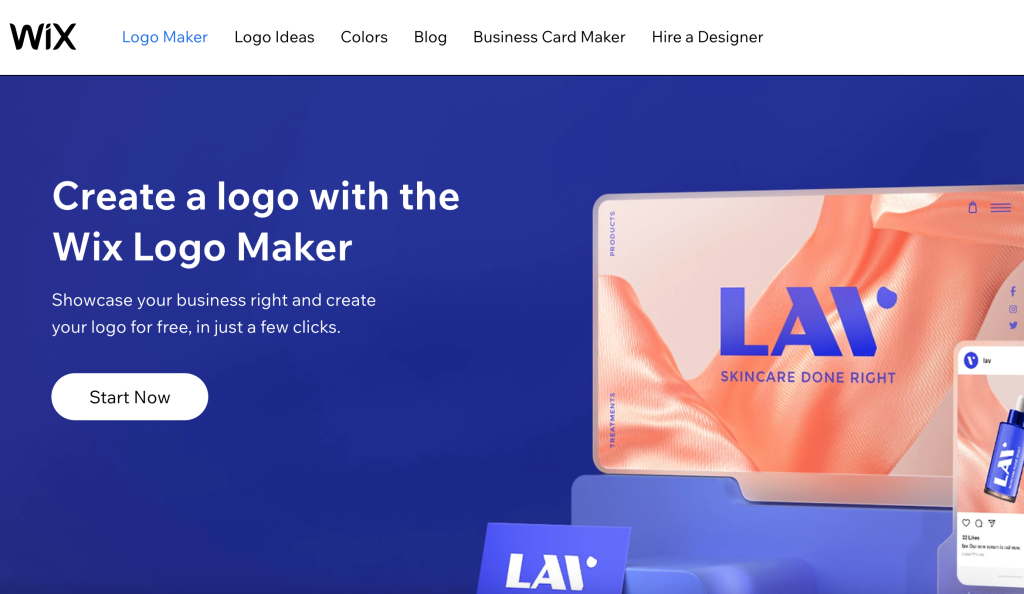 Wix is a program that is based on creating websites. In addition to that, it also has other branding capabilities such as creating logos, blogs, and business cards.
Its logo does not have as many capabilities as some others but it still is a good program due to the platform it is on. 
Pros: The editing platform is very easy to use and understand. There is also a lot of customization available as you are able to edit every part of the design.
There are a lot of icons available to choose from and you can even add a few shapes. Prior to starting, Wix asks for your design preferences to help narrow your results. 
Cons: Although Wix does provide users with a very small sample logo, you have to pay in order to get a larger and better version. Your options are to pay for the $20 package or the $5o package.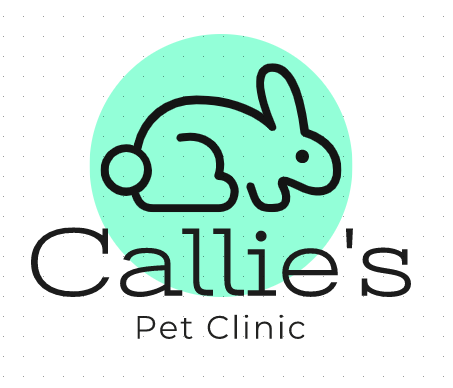 As you can see from my example, for Wix, there were quite a few rabbit icons to choose from. I had no problem adding the teal circle element or changing the typography. The shapes that you could choose from to add were more limited. 
DesignHill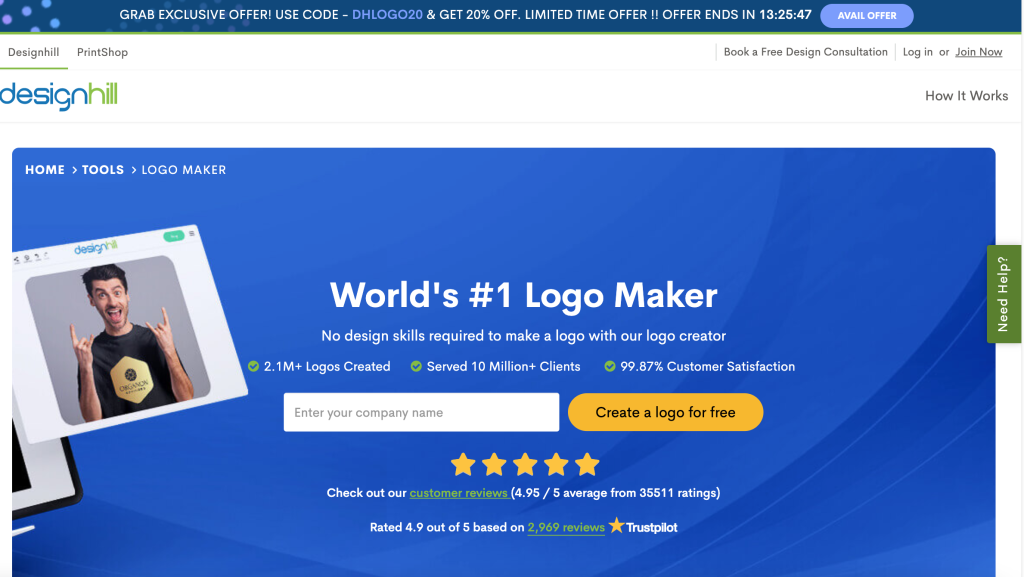 DesignHill is specifically a logo maker company. They specialize in logos and have some really neat templates to choose from. It is a great choice for those who don't want to have to edit much in order to get a good logo.
Through their process, they as a lot of questions prior to the start in order to get your preferences. The user can add a lot of information into the logo maker's program, or not as much. 
Pros: DesignHill has a nice editing platform that is decently easy to use. It also allows some customization with typography, colors, and icons.
There are many icons offered on this program. It seems to continuously upload more options as you scroll.
Cons: This program does have some limitations as it is hard to change everything within a template. I couldn't add very many additional elements and what I could add, I wasn't able to fill with the color.
Unfortunately, to get a logo through DesignHill, you have to pay for a package of $20, $150, or $250.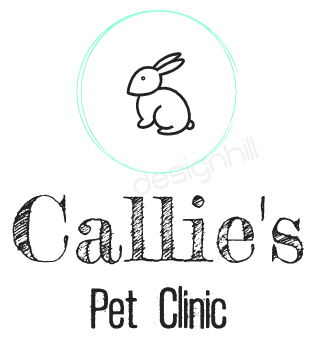 As you can see from my example, the elements that I was able to add were very limited. I could add a circle around the rabbit but I couldn't fill it with my chosen color. You had to choose from a limited amount of templates but there were a lot of icons available. The typography was easy to change. 
Hatchful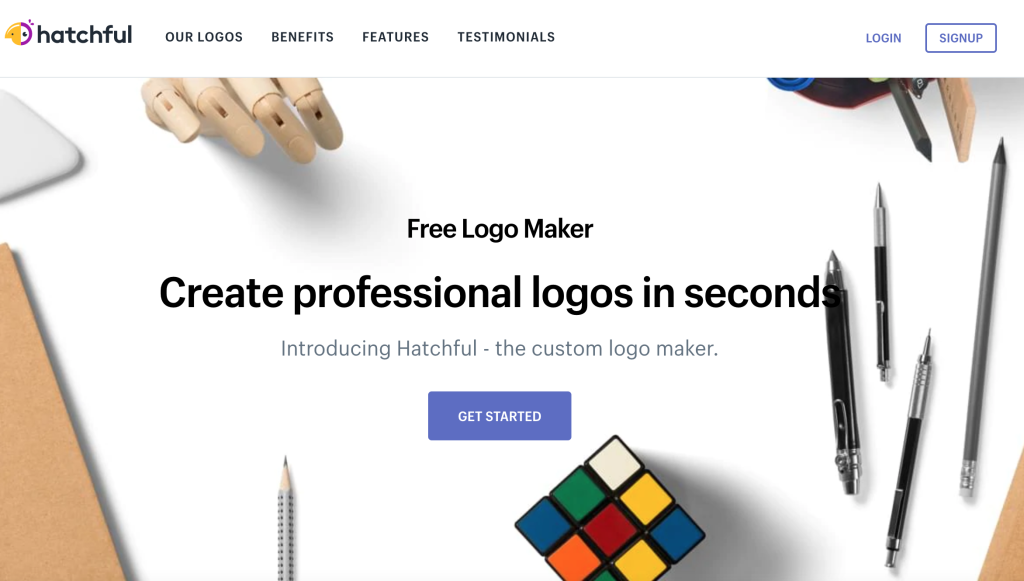 Hatchful is specifically a logo-making company. That is what it specializes in. 
Before designing, you tell the logo maker what industry you're in, what visual appeal you are looking for, what your company's name is, and how you will be using your logo. After that, it provides some templates for you to look at.
Pros: This logo maker is free with no catches.
The step of selecting how you want to use your logo is very important. Based on what you told Hatchful, it will give you those specific files at the end of your design process. It creates your files based on what options you selected.
All of the templates are well made and their program is easy to use.
Cons: This program is not very customizable. A lot of the templates don't support taglines and there aren't very many icon options.
You as the user are very limited on what you can add to the design and what you can edit.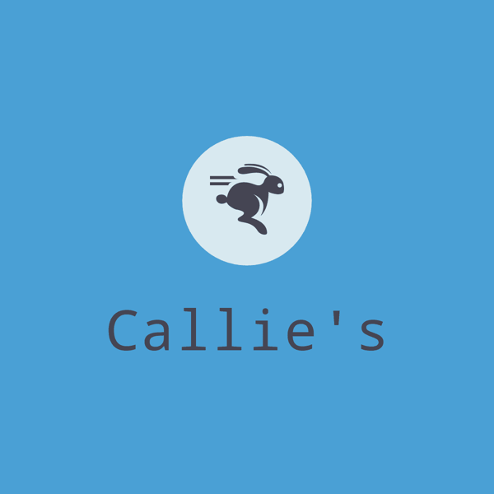 As you can see from my example, there were not many logo templates that allowed the tagline to work with the design. There were even fewer templates with rabbits on them. In order to use the rabbit in the circle, I had to give up the tagline of 'pet clinic.' The only element that I could add is the outer rectangle container so there's where I had to put the blue. The program would let me choose my own specific color. 
Logogenie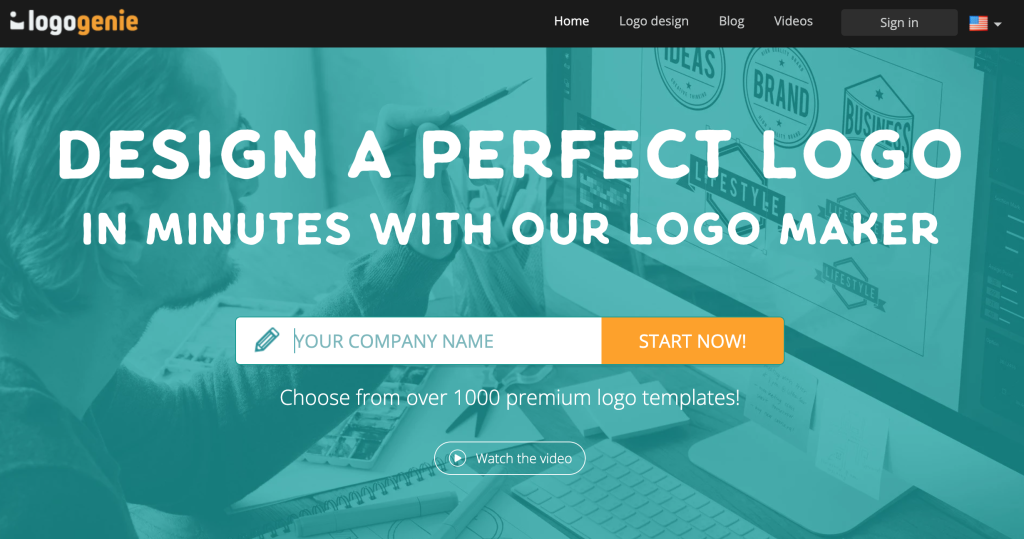 Logogenie is specifically a logo maker platform. It is template-based with many to choose from but the templates are very customizable. You give it some keywords to start with and it comes up with logos from there.
Pros: The templates are very well made and even as you choose one, you are not stuck conforming to it. The platform is nicely customizable and very easy to use.
Cons: Logogenie costs anywhere between $25 to $185 based upon what you are wanting in addition to your logo. This cost is customizable as the user gets to determine exactly what they are paying for.
This logo maker had a limited selection of logos available compared to the other companies.
As you can see from my example, Logogenie provides a nice platform to work on. It was easy to add the circle element and they had a lot to choose from. It was also easy to edit the typography. They, however, only had around four rabbit icons available which are significantly less than nearly all the rest of the logo makers.
Ucraft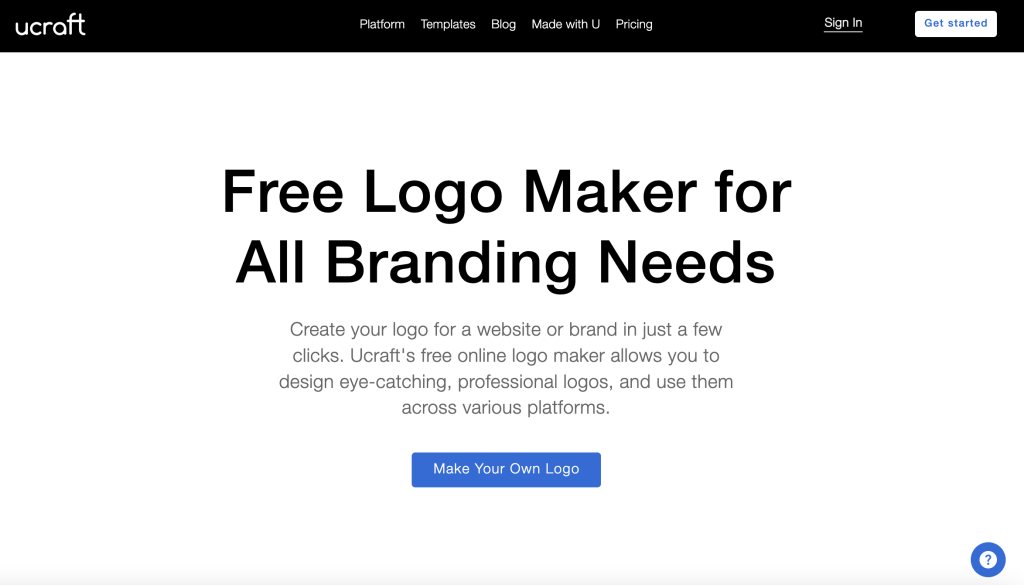 Ucraft is a logo maker that is very do-it-yourself or DIY based. This program immediately provides their editing platform and allows you to get to it. 
They do provide some website creation as they have templates available for interested users.
Pros: There are nearly unlimited icons available through this program. You can add different shapes to your design and the typography and colors are easy to change.
There is a free option for your logo that is provided in a PNG file. If you want an SVG file, you will have to pay $7.
Cons: This program does not provide previously made templates, meaning that you have to do every part of the design process yourself. 
There is not an enormous about of different shapes that you can add to your design. 
As you can see from my example, I did not have a hard time finding a rabbit icon. The text was easy to edit and adding a circle element that was the correct color was not a problem at all.
Squarespace
Squarespace is a website creation and hosting center. It has many templates as well as the ability to provide domains, marketing tools, and much more to help your brand. All of their services are based on what you will need for your website. It does have the logo maker, but that is not this company's main feature.
Pros: Squarespace's editing platform is not too difficult to learn or understand. You enter your company name and then search for the icon that you want. Logos provided by this group are free.
Cons: This logo maker does not provide many customization options. Different elements cannot be added to the design. Their icon library is also not very large.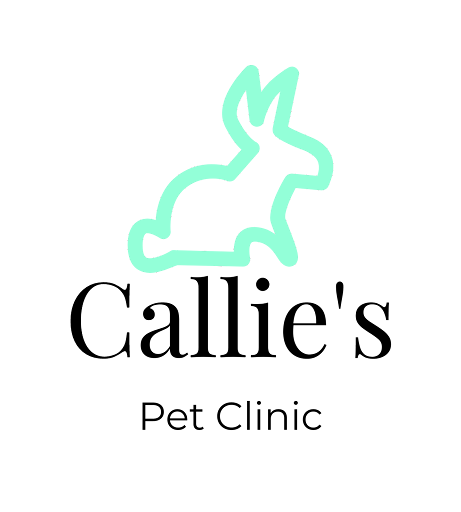 As you can see from my example, Squarespace was unable to add a circle element to the design so I changed the rabbit's color to my teal color. I could change the typography though. It had a relatively small library of rabbit icons available though more than some other logo makers.
Choosing a Logo Maker
Now that you have some knowledge behind these ten logo makers, you can decide on which one you want to use. All of them allow you to create your logo before having to pay for it, for those that have a fee.
The logo maker you choose will probably depend on a few factors which are what you want out of your logo, your budget, and how much control you want. 
What Do You Want Out of Your Logo?
Logos are generally made for the same purposes for every company but they can be put into use differently. It all depends on what the user needs out of the logo and where they would like to put it. 
Free options will typically only have a very basic image of your logo that they provide. While the file may change per logo maker, these logos work but are not versatile for everything that a logo has the capability to do. These would be programs such as LogoCreator, Ucraft, Squarespace, and Hatchful.
One great benefit of Hatchful is that, even though it is free, it asks before the design process starts, what you will need your logo for. When you download your file, it provides all the different file types based on what you selected so far. 
Payment or subscription options will have the most versatility. When you get a subscription from Canva or Tailor Brands, you get access to a lot more features that are available on their site.
Companies like GraphicSprings, Wix, DesignHill, and Logogenie all have payment options based on what you want from your logo. The more money you pay, the more extra things and files your logo will come in. These plans are fairly customizable to what you are needing, allowing you to only pay for the logo files and other items that you actually need and will use.
What is Your Budget?
If this logo is for your basement startup company and you have no budget behind you, then obviously the free options will be the best for you. Although these files will be smaller and with fewer benefits, there is no commitment behind them and they won't be a drain on your wallet. These would be programs such as LogoCreator, Hatchful, Ucraft, the free version of Canva, and Squarespace.
If you have some money for a logo but you won't want to have to deal with a subscription and constant payments, then having a one-time fee would be the best way to go for you. This is a good choice if you only need one logo and won't use the platform more than that as soon as you're done. These would be programs such as GraphicSprings, Wix, DesignHill, and Logogenie. All of these programs allow you to choose your payment based on what you are needing from your logo package. 
If you have the money and the need for a recurring subscription to a logo maker, then choosing a subscription package is the best way to go. This is a good path to take if you are making a lot of logos or you are using some of the other features that the logo maker provides. These would be programs such as Canva's pro version or Tailor Brands.
How Much Control Do You Want?
If you have something specific in mind, it might be easier to go with some of the more customizable logo makers because you can create the specific outcome you are looking for. The programs that are template heavy might have what you want, but it will be a lot harder to edit them to get it if not. These would be programs such as LogoCreator, Ucraft, GraphicSprings, and Wix.
If you have no idea what you want for your logo and you don't really want to have to fully design it yourself, then choosing a program that has low customization options and a lot of templates is the way to go. These templates are made by professionals and are already ready to be used. All you have to do is change the name and possibly the colors before you are ready to go. These would be programs such as Canva, Tailor Brands, Hatchful, DesignHill, Squarespace, and Logogenie. 
Creating Your Own Logo
Now that you have information about the logo makers and you understand how to choose one, you can get started.
Our logo creator is a great option due to its easy-to-use platform, high customization, numerous templates, and free price. Simply type in the name of your company, choose the industry, and pick an icon to start editing.
In a very short amount of time, you can have your own free logo that you made yourself from LogoCreator. Try out our program today.
Angela Irwin is a branding and design enthusiast with a Bachelor of Fine Arts in Graphic Design from Meadowbrook College. As a writer at Logocreator.io, she shares her expertise on logo design, graphic trends, and effective branding strategies, helping businesses create impactful visual identities.